Wonderland in Sheffield: 18 June - 13 July 2008

With a radio, television, web and actual visiting audience of over 2.5 million people Wonderland Sheffield was a great success. This evocative work instigated a curious and receptive response at Meadowhall shopping centre, the Botanical Gardens and other sites from a broad range of people. Over the exhibition period the Wonderland partners accrued a wealth of documentation including film, photography, illustration and public comments. These can be seen in the Image library section of this site.
Tony Ryan, University of Sheffield:



"Wonderland has pushed the boundaries of what is achievable to provide remarkable results. I hope the products we have created can provide practical solutions to live issues and that the conversation we've started will continue to question our current behaviour and gather momentum. The Wonderland exhibition is all about stimulating the public conscience in visual and dramatic ways, and empowering people to dream about alternative ways of consuming".
Helen Storey, London College of Fashion:



"We are living in extraordinary and urgent times yet no one has the solutions to some of mankind's greatest challenges. Now is the time to bring science, art and business together, and through beautiful audacity, rigor and awe help to change our environment for the better".
Wonderland appeared at...




Wonderland Sheffield ran in a city wide event between 18 June – 13 July:
Meadowhall, The Lower Arcade: 'Plastic is Precious' - Five Dresses disappeared over 26 days.
Botanical Gardens, Clarkehouse Road: 'Many small things' - Bottles turned to flowers in the Marnock Garden
Millennium Gallery, Arundel Gate: 'The story unfolds' - Imaginatively inspired floor graphics were installed
University of Sheffield, 'Thinking off the wall'- Public Information was displayed at the Richard Roberts Building, Brook Hill.

Science inspires art.
Art inspires activism.
It started here. In Sheffield.
Wonderland continues to the Ormeau Baths Gallery Belfast, 8 Oct – 8Nov 2008 for info please see Wonderland in Belfast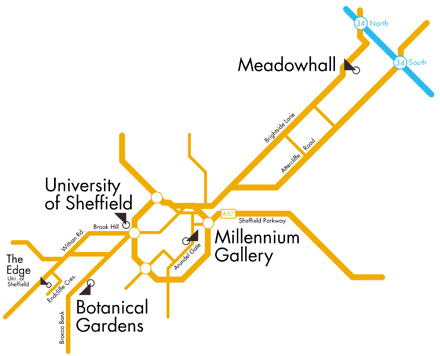 Copyright ©2005 The Helen Storey Foundation, the University of Sheffield, The University of Ulster/Interface