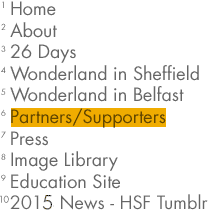 Partners/Supporters





The Wonderland project is funded by University of Sheffield, Arts Council England, Arts Council Northern Ireland, Arts and Business Yorkshire, Engineering and Physical Sciences Research Council, Tu at Sainsbury's, Sheffield City Council and Sheffield University Enterprises Limited.
"Arts & Business is delighted to support this project, which exemplifies the power of art to communicate complex ideas and to engage the public with scientific and environmental issues at a very high level. Tu at Sainsbury's partnership with "Wonderland" is a powerful and innovative way to position themselves within this current debate." Vanessa Gibson, Arts and Business
Applied Information Group (AIG)



AIG specialises in developing and managing communications and identity programmes, and in creating and supporting information architecture both in the physical environment and with interactive media. Creative director Professor Malcolm Garrett RDI has worked with Helen Storey for almost a decade on the development of interactive projects and communications, from art installations to the Helen Storey Foundation website. "The unique contribution made by the Helen Storey Foundation to new creative thinking is something to be treasured," Malcolm comments. "We are particularly delighted to be involved with Wonderland which demonstrates what can be achieved when boundaries are torn down and different worlds collide".

Arts and Business



Arts & Business Yorkshire is an independent company affiliated to Arts & Business which aspires to be the world's most successful and widespread creative network. We help business people support the arts and the arts inspire business people, because good business and great art together create a richer society.

DED Associates (Designers for Wonderland events tour and graphics)



It is rare in the commercial world to be given the opportunity to contribute to a project which truly reflects the marriage of art and economics. Here at DED Associates that opportunity came in the form of Wonderland and, being conceived in our home town of Sheffield, bears even more resonance for us. We continue to relish the challenges that Wonderland presents and welcome the chance to collaborate towards this multifaceted and worthwhile enterprise. Vist www.dedass.com

Interface/ University of Ulster



With the knowledge, technical expertise and leading edge resources available in Interface: Research in Art, Technologies and Design, School of Art and Design, University of Ulster, all the fabrics for Wonderland couture dresses were develop in Belfast. Aiming to form innovative partnerships with science, fashion and industry, Interface has galvanised creativity to make a contribution towards a sustainable and well designed environment.

These beautiful, laser-cut and bonded, stitched and printed, texturised and embellished materials have the potential for many other future applications in the fields of science, textiles and health.

The project has received funding from the Arts Council of Northern Ireland, Higher Education Innovation Fund, and Interface, University of Ulster. It will be on show at Ormeau Baths Gallery, Belfast, from 07 October to 09 November 2008.

For further information please contact: Trish Belford, Senior Research Fellow, Fabric Forward, Interface, School of Art and Design, University of Ulster, Belfast, Northern Ireland; Email t.belford@ulster.ac.uk, Tel: +44(0)28 90 267 323

London College of Fashion



London College of Fashion is delighted to support Wonderland, a project which embodies the college's own core principals of sustainable and ethical fashion. As a global leader in fashion education, LCF believes that it is vital to prepare its students, the fashion industry of tomorrow, for the challenges that issues of sustainability presents. LCF is currently running a highly successful awareness raising campaign
"Green is the New Black" and is in the process of setting up a Centre for Sustainable Fashion, an internationally recognised and globally connected catalyst for change, fully integrated with industry to create better lives through a sustainable fashion economy:
www.fashion.arts.ac.uk/green

Sainsbury's



Tu at Sainsbury's is always looking for greener alternatives, which is why we sell organic and Fairtrade Cotton clothing. Partnering with Wonderland will inspire new thinking and help encourage customers to lead a more sustainable, cleaner, less wasteful lifestyle.

Sheffield City Council



"Sheffield is delighted to be instrumental in creating Wonderland and hosting the exhibition in 2008. This fantastic exhibition will be the first of its kind, interlinking technology, chemistry, art and fashion in an environmental challenge. The result will be a breathtaking exhibition of intellectual significance. "
- Councillor Tim Rippon, Sheffield City Council

SHOWstudio



"SHOWstudio has a longstanding commitment to creating experimental, collaborative projects using motion, interactivity, sound and live media to invigorate fashion image-making with new aesthetic and intellectual possibilities. Our collaboration with the Wonderland project comprises a range of outcomes on SHOWstudio.com, from live webcasts of fashion-design-in-motion and a real-time dissolution of a dress, to mobile phone diaries documenting research findings, video interviews with the designers and scientists and a live broadcast of the fashion shoot where the resultant collection is photographed.
We are thrilled to be involved in Wonderland, which draws on a number of different fields, including science, fashion design and art, to investigate a universal problem: how to find an inspiring solution to the product of mass consumption."
- Penny Martin, Editor in Chief

SUEL Sheffield University Enterprise Limited



SUEL is delighted to see the results of the unique collaboration between the University's polymer scientists and the Helen Storey Foundation. We look forward to an ongoing synergistic relationship between the University's scientists and the design capabilities of the Helen Storey Foundation.

University of Sheffield



The University of Sheffield is delighted to be supporting such a unique and exciting initiative, which not only brings art and science together, but also provides real solutions to global environmental issues.

Professor Tony Ryan is world-renowned for his work on polymers and nanotechnology. He is hugely dedicated to engaging the public in science and in particular chemistry. His dynamic collaboration with Helen Storey will collide the worlds of fashion and chemistry and will open up the public¹s eyes to the endless possibilities of science.

Wonderland was created in Sheffield and it is therefore apt that it will return to the heart of the city next year. We are all really looking forward to seeing the exhibition come to life and wish it international success.



Copyright ©2005 The Helen Storey Foundation, the University of Sheffield, The University of Ulster/Interface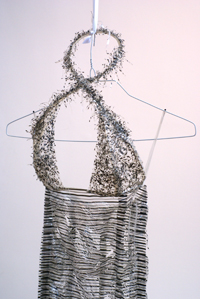 photo - Alex Maguire
photo - Alex Maguire