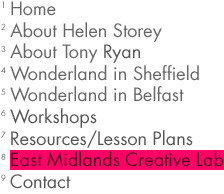 East Midlands Creative Lab
and 'Primitive Streak'


June 2006 - March 2007

East Midlands Creative Lab was developed through a partnership between the Helen Storey Foundation, Creative Partnerships BAM, Derby, Leicester and Nottingham, Arts Council England East Midlands, Derby City Council, Derbyshire County Council, University of Derby and was delivered by Arts in the Peak.

At the heart of EMCL was Primitive Streak, a fashion collection that explores human development, created by artist Helen Storey and scientist Dr Kate Storey. The 27 exhibits explain 10 key events in the first 1,000 hours of human life, merging art and science to come up with something completely new and exciting. Schools from all over the region were able to participate in a range of activities:



>

CPD for Teachers - an intensive and innovative CPD programme for 8 teachers and 8 artists



>

School Visits - experimental sessions led by creative practitioners in the Creative Lab space



>

Research Bursaries - 9 schools were awarded research bursaries of £2,000 each to develop a short action research project with input from a creative partner.



>

Open weekends and debates - 2 open weekends, the first centred around a debate on the relationship between science and art and their similarities as innovative, research-based practices, the second a seminar sharing the work of schools involved in EMCL.

Click here to visit the EMCL project website for further inspiration and resources.


Copyright ©2005 The Helen Storey Foundation, the University of Sheffield, The University of Ulster/Interface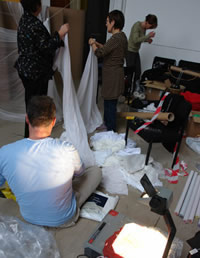 EMCL CPD session: photo - Clive Wheeler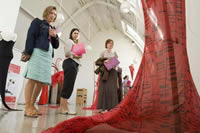 EMCL Launch: photo - Chris Webb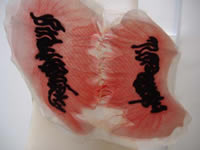 Dress image by Bolsover School pupil