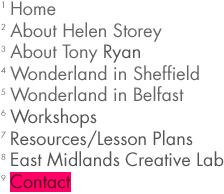 Contact Wonderland



We welcome comments from Teachers and Professionals. If you would like to send in ideas, comments, suggestions please email info@helenstoreyfoundation.org

A selection of these comments will be uploaded at regular intervals.


Thanks go to:
David Gilbert for web site editing and work on the Sheffield pilot education programme
Jon Daughtry at DED Assoc. for design
Jon Nicholls, Alex Gibbons, Kate Hawkins and students from Thomas Tallis School
Peter Belford and students from Formby High School
Julie Jordan at the Science Learning Centre, Sheffield Hallam
Lesley Quinn at Creative Youth Partnerships, Northern Ireland
Shelagh Cowley at the University of Sheffield
Kamina Walton for evaluation
Alex Maguire and Kamina Walton for photography
all at SHOWstudio
Deepa Patel and all others who have been or are involved with Wonderland Education.


Copyright ©2005 The Helen Storey Foundation, the University of Sheffield, The University of Ulster/Interface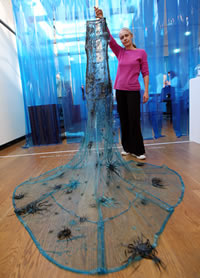 Helen Storey with one of the dresses: photo - Alex Maguire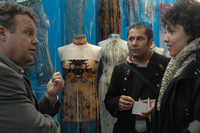 Tony Ryan with teachers at the workshops : photo - Kamina Walton